Press Brake Controls And Safety Systems
Press Brake Control Systems
Mechanical Press Brake Guarding
Triad mechanical press brake controls are designed to monitor machine actuation in conjunction with the use of a Triad SuperLight VI FLOATING BLANK infrared light curtain as the point of operation guard. Meets current OSHA standards for control reliability and component monitoring and also incorporates brake monitoring.  The packages include all of the components needed for a complete installation.
Package 2100: Mechanical Press Brake Control with Automatic Slow Forming.  Excellent for the long run and small piece part production shop where uniform piece part forming is required.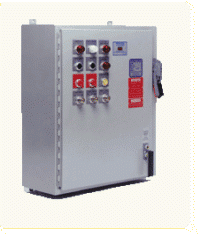 Package 1: Retains Mechanical Pedal to Slow Form Parts and to Retain Operator Feel for Forming. Excellent for the long run and where versatility is needed during the forming cycle.
Package 2101 converts mechanical press brakes currently being actuated by a mechanical treadle.  This system provides two-hand, foot operation which converts the press to electric foot pedal operation. The system has a single stroke and is foot actuated with Select-O-Stop and automatic ram control. Excellent for the job shop for the versatility needed in short runs.
Package 2110 Control converts mechanically actuated press brakes to electrical foot switch operation and gives the press brake single forming speed when used as a mechanical power press for punching, piercing, notching or blanking operations. The control incorporates single stroke function with Select-O-Stop and utilizes an electric foot switch for machine actuation.
Package 2120 updates the controls on air clutch press brakes to meet current OSHA standards for control reliability & component monitoring and also incorporates brake monitoring.
Package 3122 updates the controls on air clutch press brakes to meet current OSHA standards for control reliability and component monitoring. It also incorporates the two hands/foot thru the method of guarding the point of operation. The control also incorporates brake monitoring.
Muting controls are designed to allow the SuperLight VI infrared light curtain to be muted out or bypassed during the non-hazardous portion of the machine cycle. The mute out function is actuated by the No. 301 limit switch or the No. 300 adjustable calibrated switch actuator when the die is within 1/4″ of the pinch point and continues until the ram returns to top stop. At this point, the infrared light curtain reactivates and gives protection during the hazardous portion of the downstroke.
Options are available for press brakes, punch presses and with Select-O-Stop for press brake small parts forming.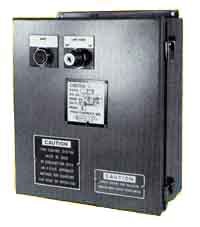 SuperLight VI Programmable Press Brake Safety Light Curtain
TRIAD safety light curtains utilize the diverse redundancy design concept. This gives the safety light system a higher level of redundancy and control reliability. The two microprocessors are of different design, and the microprocessor or parallel programs are run and made up from different instruction sets written by different programmers.
TRIAD safety light curtains self-check every 20 milliseconds. Self-checking is the ability to electronically verify that all of the systems critical internal circuit components and their redundant counterparts or back-ups are operating properly.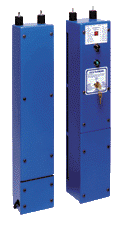 Redundant relays assure safety if an output relay should fail. SuperLight VI utilizes safety relays which have force-guided contacts. The contacts are mechanically locked together so that if one set of contacts weld, the other contacts cannot change state. If one should fail, code 5-6 will be displayed on the diagnostic display.
Critical components of the SuperLight VI are duplicated so that a single component failure will not cause an unsafe condition. If a component does fail, the units self-checking circuitry recognizes the situation and initiates a safe stop of the machine.
TRIAD safety lights utilize powerful, safe, and predictable infrared light as its sensing source. This gives the system greater reliability and enhances machine utilization by minimizing nuisance trips and shutdowns caused by dirt, coolants, lubrication mists, and machine oils. TRIAD safety lights are highly immune to EMI, RFI, and ambient light conditions and are unaffected by strobe lights and weld flash generated light sources.