Machine Shields from Danray
Danray has a large selection of machine safety products and accessories including machine safety shields, lathe chuck shields, portable (handheld) chip/coolant shields, machine lamps, safety signs and more. These products can be used with metalworking and woodworking machinery such as drill presses, milling machines, grinders, lathes, and saws.
Danray heavy-duty lathe chuck shields are designed to apply to lathes or other similar machine applications. The shield provides a barrier between the chuck and workpiece and the operator. The shield also deflects chips, coolant, and other particles. The shield hinges left and rest at a 45° angle above the headstock, making it easy to change the chuck or workpiece. The operator doesn't need to reach over the chuck to move the shield in and out of position (which is a possible safety hazard), and the shield will not interfere with lathes that have a rear guard/backsplash.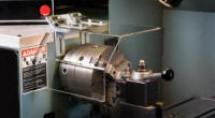 Polycarbonate portable safety shields can be used on mills, drills, lathes, and any other machines that need a handheld or attached shield to protect the operator. They are available in two sizes. The large shield has various configurations. The shield can be stored on the machine, a wall, or a post by hanging the shield on the hook provided.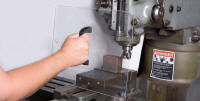 Snake-arm shields are designed to apply to a wide variety of machinery and equipment that need point-of-operation safeguarding. The shields have the ability to be moved easily in and out of the safeguarded position for tool changes or they can be readjusted to fit various machine applications. Our snake-arm shields serve two functions: (1) they provide a safeguard between people and a point-of-operation hazard, and (2) they protect people from flying chips, sparks, coolant, lubricant, and other particles generated by a machine or its tooling.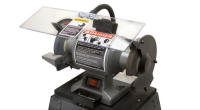 Snake-arm lamps are available with three different mounting styles: direct, C-clamp, and magnetic. The direct-mount base can be fastened to almost any flat surface at least 2″ x 1″ with two included 1/4″ fasteners. The C-clamp base can be mounted to a table or ledge up to 1 7/8″ thick. The magnetic base consists of a 3 1/4″-diameter magnet with 100 pounds of holding force. Several safety standards for machine tools require that lighting must be installed to ensure that personnel can safely perform their tasks.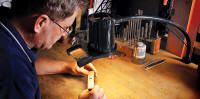 Safety signs are intended to identify and warn against specific hazards. They should be affixed to a prominent location on the machine or equipment so that they are easily seen and understood by individuals in the hazard area. Our one-of-a-kind, U.S. Copyright Office–registered signs have been designed to comply with OSHA 29 CFR 1910.145 and the ANSI Z535 series of standards for the design, application, and use of signs, colors, and symbols for accident prevention. These signs can be applied to manual and automatic metal- and woodworking machines and other equipment.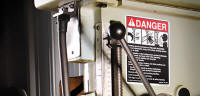 Danray Products' safety scales can be used to check for compliance of bench grinders and barrier guards with applicable machine-safety standards. Our guard safety scale can be used to check the openings of barrier guards for compliance with ANSI B11-series safety standards for machine tools; the ANSI/RIA R15.06 safety standard for industrial robots and robot systems; and Canadian safety standards CSA Z142 for power presses, CSA Z434 for robots, and CSA Z432 for safeguarding of machinery. The folding scale has English units on one side and metric units on the other. It can be used during the design, installation, and inspection of barrier guards to make sure they comply with ANSI and CSA machine safety standards.