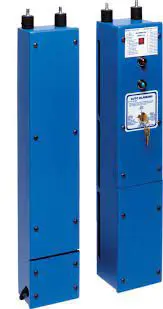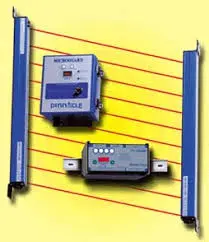 Diverse Redundancy Design Concept
TRIAD safety light curtains utilize the diverse redundancy design concept. This gives the safety light system a higher level of redundancy and control reliability. The two microprocessors are of different design, and the microprocessor or parallel programs are run and made up from different instruction sets written by different programmersRedundant Captive Contact Safety Relays
Redundant relays assure safety if an output relay should fail. SuperLight VI utilizes safety relays which have force-guided contacts. The contacts are mechanically locked together so that if one set of contacts weld, the other contacts cannot change state. If one should fail, code 5-6 will be displayed on the diagnostic display.Extra Safe Design
Provides two methods of fail-safe design. One utilizes two microprocessors and two captive contact relays, and one uses four watchdog timers monitoring the system and the captive contact relays.External Diagnostic Display
Standard on all TRIAD safety lights is the "Quickview Diagnostic Display." Alpha-numeric display shows status and fault codes of the unit. This is an excellent safety and maintenance feature.
Control Reliable System
Critical components of the SuperLight VI are duplicated so that a single component failure will not cause an unsafe condition. If a component does fail, the units self-checking circuitry recognizes the situation and initiates a safe stop of the machine.
Powerful Infrared Light Source
TRIAD safety lights utilize powerful, safe, and predictable infrared light as its sensing source. This gives the system greater reliability and enhances machine utilization by minimizing nuisance trips and shutdowms caused by dirt, coolants, lubrication mists and machine oils. TRIAD safety lights are highly immune to EMI, RFI, and ambient light conditions and are unaffected by strobe lights and weld flash generated light sources.