Press Control Systems Safety Equipment
Resolver Based Punch Press Controls
Pressroom Electronics PressCommander™: The Ultimate Clutch/Brake OSHA Control with Complete Press Automation Built-In
Standard Safety/Automation Features:
Exceeds OSHA 1910.217 & ANSI B11.1-2001
Quick and Easy Installation
Control Reliable Design (Triple CPU Redundancy)
Incorporates dual logic power supplies
Heavy duty resolver supplied standard with self-checking input on every press cycle and 30′ of resolver cabling supplied standard
Complete system diagnostics and programming in plain English/Spanish/French by a four line by twenty character vacuum fluorescent display
Can control up to four sets of operator stations
Operates at 24VDC, 110VAC, or 240 VAC/440 VAC
Major faults such as E-Stop, motion, brake monitor, and sensor faults are handled by two force-guided relays (Form B safety relays)
Modes of operation: off–inch–single–continuous
Continuous ARM; top stop, anti-tie down and anti-repeat
System start/stop functions
SPM Range -1 to 500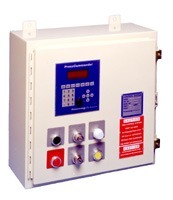 Cam Based Punch Press Controls
The Model 3200 SS (Solid State) control system is completely pre-wired and ready for installation. The system supplied complete with a well-marked terminal strip for easy, safe and accurate electrical interface to the various punch press components.
Due to the hybrid design characteristics of the 3200 SS, a main power disconnect switch and magnetic motor starters can be supplied in the same control panel.
System Start Guarded Push Button (Air and Power Interlock)
System Stop Unguarded Push Button
System On Indicator Light
Message Display Plain English messages for status and system self-diagnostics
Interrupted Stroke Provision with Indicator
Automatic Continuous Set Up Push Button
Brake Monitor–Top Stop Indicator
Continuous Arm Timer Fused Secondary Pressure Clamp Terminals
Hand/Foot Mode 2 Position Keyed Selector for Hand or Foot Mode Initiation
Transformer to reduce the voltage from 480/240V to 120 Vac secondary. Consult factory for 208 or 550-volt system.
Keyed Mode Selector Off-Inch-Single Continuous
LED Diagnostics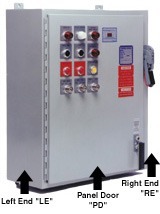 The BM-1600 is a time-based brake monitor that utilizes a high-resolution encoder and controller to measure the brake stopping time in milliseconds and also the RPM/SPM of the press. The rotary encoder is attached to the subject machine and is driven on a 1:1 ratio by the power press crankshaft. The brake stopping time of the machine will be displayed on every stop and can be easily read on the bright red light emitting diode (LED) display on the front panel of the unit. The RPM/SPM of the machine will be displayed during the machine cycle.
Individual LED indicators are visible and easily define the existing status of the unit during the press cycle (shown above). All system programming and diagnostics are front panel mounted and controlled which will minimize downtime while enhancing operator safety and press maintenance. All operating mode selections are supervisory controlled by a keyed selector switch which meets all OSHA and ANSI standards for mode selection supervisory control.

Programmable Limit Switch with Die Protection
PressCam 8 and PressCam 8 Junior
PressCam 8 is a "control reliable" resolver based programmable cam switch, time-based brake monitor, die protection system, multiple counters, and much more in one package. The system contains two 16-bit computers that are configured to cross-check each other and the resolver. The dual computers are interfaced with a full view 8″ (203mm) diagonal LCD computer screen for viewing and programming ease. This large operator screen (shown on the next page) supplies operators and front line supervisors production data without the need of cumbersome menu and program access codes.
All system faults generate descriptive plain English error messages on the computer screen. This provides floor personnel fast and reliable information related to the machine stoppage. The system is also provided with special watchdogs that turn off fault outputs should either computer become erratic. The software and system customization in both computers can be upgraded in the field using a PC computer with a standard serial port.
Programming PressCam 8 is so easy that you do not need a keypad, keyboard, or cumbersome programming techniques as required with competitive units.
The PressCam 8 Junior is a resolver-based press automation controller that incorporates a programmable cam limit switch, timed-based brake monitor, servo feed control, four counters, and a die protection system The PressCam 8 Junior is controlled by a 16-bit computer that constantly checks the resolver for accuracy.