Machine Guarding Products, Equipment & Systems Solutions Manufacturers Represented by Guardomation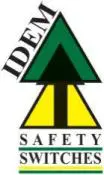 IDEM Safety Switches Limited
Designer and manufacturer of the next generation of safety interlock switches. IDEM's range of Safety Switches provides YOU, OUR customer with modern cost-effective Machine Safety solutions.
IDEM's range of "Next Generation" products harness higher reliability, the latest features and are manufactured in materials to provide high durability to cope with the continually increasing demands placed on Machine Safety Devices.

Ferndale Machine Safety Guarding Products
Since 1971 Ferndale has been providing superior products and services where the customer is number one. Ferndale provides a large assortment of machine safety guarding for machine tools and factory automation. We specialize in safety guards and shields for industrial machines. Ferndale also does safety risk assessments and free quotes on site.

PC Controls, L.L.C.
Manufacturers of custom CNC Control Systems for Press Brakes, Turret Presses, Single Station Punches, Shears, Plate Rollers, and other manufacturing equipment. Distributors of Cybelec™ CNC Press Brake Controls, Distributors of Automec Back gauges, Fanuc Upgrades. Also offering Amada, Wiedemann, Strippet and Whitney Control Upgrades.