Safety Light Curtains and Laser Light Safety Guarding
Omron STI Safety Solutions
Today, forward-thinking manufacturers clearly realize the new role of increased safety on the factory floor.  Poised at the leading-edge of safety solutions worldwide, the new Omron STI a combination of STI safety knowledge and Omron global automation experience – focuses on making safety work for you.
There are thousands of options for STI Omron safety equipment.  Here are a few of the systems often used by Guardomation.
STI Omron provides safety light curtains to solve your optical guarding needs. From compact models designed for machine locations where space is tight, to larger, robust light curtains powerful enough to guard large perimeters. Our safety light curtain designs allow you to tailor a system for the lowest possible system cost, so you're only paying for what you need.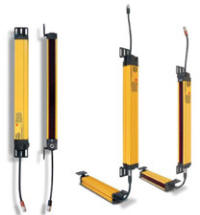 MiniSafe® MS4800 Series Light Curtains
The MS4800 light curtain family is an all-purpose light curtain available in three distinct versions. These versions are identified as the MS4800A, MS4800B and the MS4800S. The MS4800A and MS4800B feature set (configuration) can be changed through the use of an external device called the Programming Diagnostic Module (PDM) and on the MS4800S through selector switches.
F3SJ-A Economical Safety Light Curtains with No Dead Zone
Space-saving slim profile measures just 30 W x 24 D mm; easily fits into existing equipment.  Two new tools simplify setting parameters and checking the system status: "SD Manager" PC setting support software and hand-held setting console. 
On-board muting functionality enabled by a low-cost optional key cap requires no external muting controller.  Blanking function disables specific beams of the Safety Light Curtain.  A warning zone can be set to alert people before they enter a danger zone using single or series-connected units when horizontally mounted.  Mounting brackets (included) allow easy tightening of mounting screws and aligning of the beams after the sensor is mounted.
OptoShield OS32
Laser Light Safety Scanner
OptoShield has a safety range up to 4 m and is configured via easy-to-use software.  Intrusion indicators immediately identify where the safety zone encroaches.  Easy-to-read system status and diagnostics.  Two separate detection sets (each with one safety zone and one warning zone) can be externally selected. Auxiliary outputs for warning zones.
Operating Modes: Automatic Start, Start Interlock, Start/Restart Interlock.  Response time as fast as 80 ms.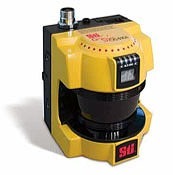 Perimeter Access Guarding Light Curtains
Operating range of 70 m.  Three scan codes to eliminate cross-talk.  Short/long operating range selector switch.  Response time as low as 16 ms.  1 to 6 beams available.  Compact size – 46 x 55 mm (1.81 x 2.17 in.).  Easy access to selector switches.  Simple "two-box" design – no separate control box required.  No cable required between transmitter and receiver.  Two PNP safety outputs designed to directly switch machine primary control elements.