Load Cells Monitors & Die Protection
Press Controls and Tonnage Monitoring
Toledo Integrated Systems
Press Control & Automation Solutions
Complete press control automation and integration from Toledo Integrated Systems
have developed an unmatched reputation in the metal stamping industry for designing, engineering and commissioning custom tailored press control & automation solutions that are user-friendly, safe and reliable.
Toledo Integrated Systems offers a wide array of press control packages. The most simple and inexpensive package is our Press Pilot 150, a clutch/brake controller for mechanical air clutch presses. This can be used with various levels of automation to meet the application requirements and budget.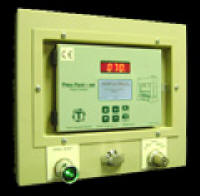 We also offer more advanced and custom-designed packages for forging, hydraulic, press feeder and transfer system projects. We specialize in Allen-Bradley PLC and HMI design. However, we have also been successful in providing other PLC-based solutions (Siemens, Mitsibushi, etc.).
Press Pilot 150 – Basic Press Control

OEM Press Pilot 150 – Integrator Friendly Control

DPPlus TPC – Press Control with Basic Automation

Co-Pilot TPC – Press Control with Automation

AB Maximizer TPC – Allen-Bradley Press Control & Automation Solution
S Maximizer TPC – Siemens Press Control & Automation Solution

HYD Maximizer TPC – Hydraulic Press Control & Automation Solution

Forging Maximizer TPC – Forging Press Control & Automation Solution

Press Feeders, Transfer Systems, and More
Toledo offers a wide variety of monitors for each press application. These applications include C-Frame, OBI, OBS, forging, powdered metal, refractory, transfers, assembly and double action presses.
Our tonnage monitors can extend the life of your press and dies by preventing excessive hard hits. Capacity, high and low set points can be set with these monitors and if any of the setpoints are crossed, the press will stop. Our force monitors can also be used to determine the minimum amount of force needed to form a part.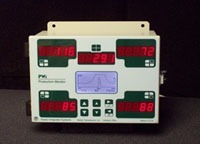 LS PressWatch Series Signature Based Tonnage Monitor

PWi PressWatch Tonnage Monitor

Quik-Learn Automatic Tonnage Monitor

Slim Signature Based Tonnage Module
N260 PressWatch Series Tonnage Monitor

PW Plus PressWatch Series Benchmark Tonnage Monitor

N269 Series Process Control Tonnage Monitor

PWF Series Forging Tonnage Monitor

Die Try Portable Tonnage Monitor
Toledo custom designs load cells and sensors for a variety of applications with concentration on tension and compression forces, which are used in a large array of industries.
Strain Link/Force Sensors
Die Protection is used to protect your die in the case of an unexpected event. These events can include misfeed, short feed, long feed, buckle detect & part eject.
Toledo Integrated Systems offers a stand-alone die protection system (B500 Modules) and is included in many of our all-in-one packages such as the Maximizer.  The Maximizer is a fully integrated press automation and control system. The PLC-based packages allow for customization and expandability. Create the system that fits your needs now, then enhance and expand as your needs change. We can custom tailor each maximizer for your needs or integrated with an existing PLC system including Allen-Bradley, Siemens, Mitsubishi, and many more.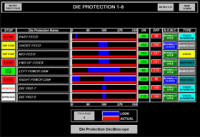 Standard Sensor Interface

Universal Sensor Interface
Please contact Guardomation for technical, applications engineering and sales assistance for your machine guarding and safety requirements.