Safety Switches and Safety Relays from Omron
There are thousands of options for Omron STI safety equipment. Here are a few of the systems often used by Guardomation.
Safety Interlock Switches
Omron Scientific Technologies, Inc. safety switches are designed to work together with hinged, sliding, or lift-off guards and barriers. When the guard is opened, the power supply to the machine is disconnected.
These products are used in many of the same industrial and manufacturing arenas as the safety light curtains including packaging and automotive.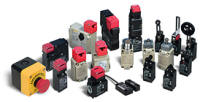 Safety Relays Ensure Control Reliability
Control reliability is mandated in U.S. and European standards for safety-implemented circuits. These criteria can be met by using redundant safety-rated device outputs in conjunction with a safety relay.
Safety relays range in function from stop motion detection to 2 -hand palm button control, to dual-channel input units with time-delayed outputs that provide conformity to ANSI B11.19, Section 5.1.
All safety relays carry the CE mark and are UL and C-UL listed.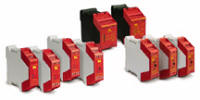 Force-guided (or positively-guided) relays have contacts that are mechanically interlocked such that two contacts on the relays will not contradict each other, even in the event that the relay welds.
Force-guided relays have contacts that are force-guided/mechanically linked conforming to IEC60947-1-1 as required for use in safety-related control systems.